Sean Kelly has registered for the 'Night into Day' Event
The Burren Cycling Club is delighted and excited to announce that the most famous classics rider of all time, Sean Kelly, has registered for the Tour de Burren 'Night into Day' event.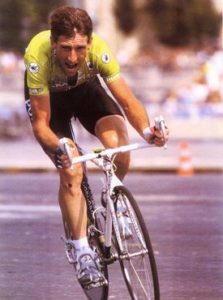 The concept starts with a route of between 80-100 km through the Burren under the cover of darkness and peace, with a hammer drop when the sun rises for a glorious ride back the Coast Road to Ballyvaughan.
Sean Kelly and fellow cyclists will depart the village of Ballyvaughan in darkness at 2am Saturday morning and return along the Coast Road to the sun rising.  This route is on good roads with 900m of climbing and will be controlled till the sun rises.  A description of the route is
'great surface and when the sun rises the views will surprise you'.
Breakfast will be served at Monks, Ballyvaughan on your return where you rest for a bit and refresh before you head off again for a daytime spin with your fellow cyclists on the everyday spin!!!  The option is to then either complete the 135km/ 85km / 60km route with all the trimmings of the day from the Tour de Burren crew.
"The 'Night into Day' event is is a novel experience and one that all experienced cyclists will enjoy.  The routes on the Tour de Burren are challenging but the scenery is second to none.  This is a must do sportif on the summer calendar." Sean Kelly recently commented.
Places are limited so register today to join Sean Kelly.