Fantastic Training Spin with Sean Kelly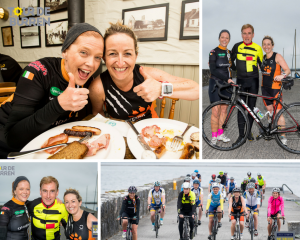 On Saturday morning our lucky competition winners went on a Pre Tour de Burren training spin with Sean Kelly in Ballyvaughan.
Cecelia Shefflin from Marble City Cycling Club and Nikki Rice from Kilkenny Tri Club were well able to keep up with Sean and the Burren Cycling Club members on a 60km training spin around North Clare.
The Burren Cycling Club look forward to welcoming the ladies back to Ballyvaughan on the 16th June for the main event.
There is still time to register at www.tourdeburren.com.
Thank you to Hylands Burren Hotel for accommodating the ladies on Friday night and Monks Ballyvaughan Seafood Restaurant & Bar for treating the ladies to fabulous seafood on Friday evening.