GEARING UP FOR THE 16TH TOUR DE BURREN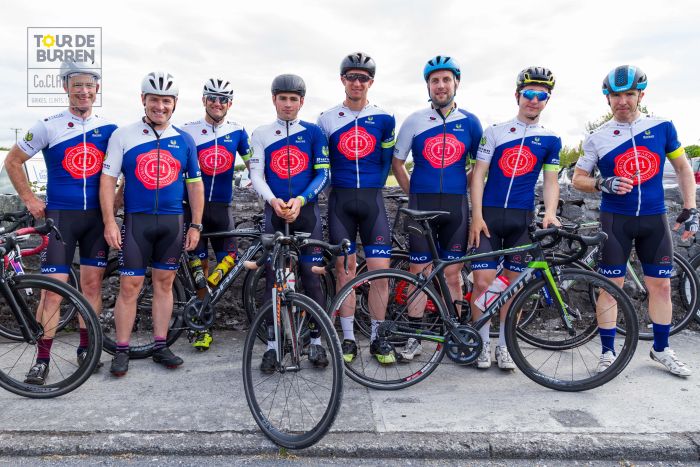 It's time to oil the brakes, pump up the wheels and get a few miles on the legs for the 16th annual Tour de Burren Cycle on June 20, 2020.
Truly a local event organised by the Burren Cycling Club, the cycle will bring 1,000 regular and would-be riders out into the beautiful landscape of the Burren National Park in County Clare. Can there be a better way to engage with our awe-inspiring scenery than to ride along the Wild Atlantic Way on two wheels? And with excellent signage on the route as well as an army of marshals, participants feel safe and relaxed so they enjoy the spin.
CYCLE ROUTES
Two main routes start in Ballyvaughan and bring cyclists through the Burren Geopark, past Fr Ted's House and back home along the coast road which forms part of the Wild Atlantic Way. The Burning Burren 130km route starts at 9am, while the Burren Heart 100km route starts an hour later at 10am.
Both routes meet at Kilnaboy Community Hall for the famous food stop, which is worth the cycling effort to get there. Sandwiches including the famous brown bread and smoked salmon, cakes including strawberry cheesecake and apple tart, biscuits and endless supply of tea and coffee await the riders who'll get to chat and compare stats (or aches). In fact, the Tour de Burren food stop is nearly as famous as the cycle itself… part of the Tour de Burren challenge lies in getting up on the bike after all the cheesecake.
And of course, we haven't forgotten cycling families – the Family Loop takes off at 11am. We're hoping to see more mini cyclists than ever on June 20.
NO SHORT ROUTE
Former participants should note that there's no shorter route this year due to the county Fleadh in Lisdoonvarna the same weekend (June 19 – 21). But what a great opportunity to enjoy post-cycle craic in the company of some of the best local traditional musicians in County Clare!
ENTRY FEES
This year, we're reducing the entry fee with a special early bird rate of €30 for the first 200 entries, €35 for the next 300 and €40 for the final 500 participants. So get in gear and sign up!
Along with the reduced entry fee, everybody receives a Tour de Burren beanie hat which they can pick up on signing in. Our beanies are sure to complement the Tour de Burren fashion collection which entrants have picked up over the years!
By the way, did we mention the whipped '99 ice cream at the end of the cycle…