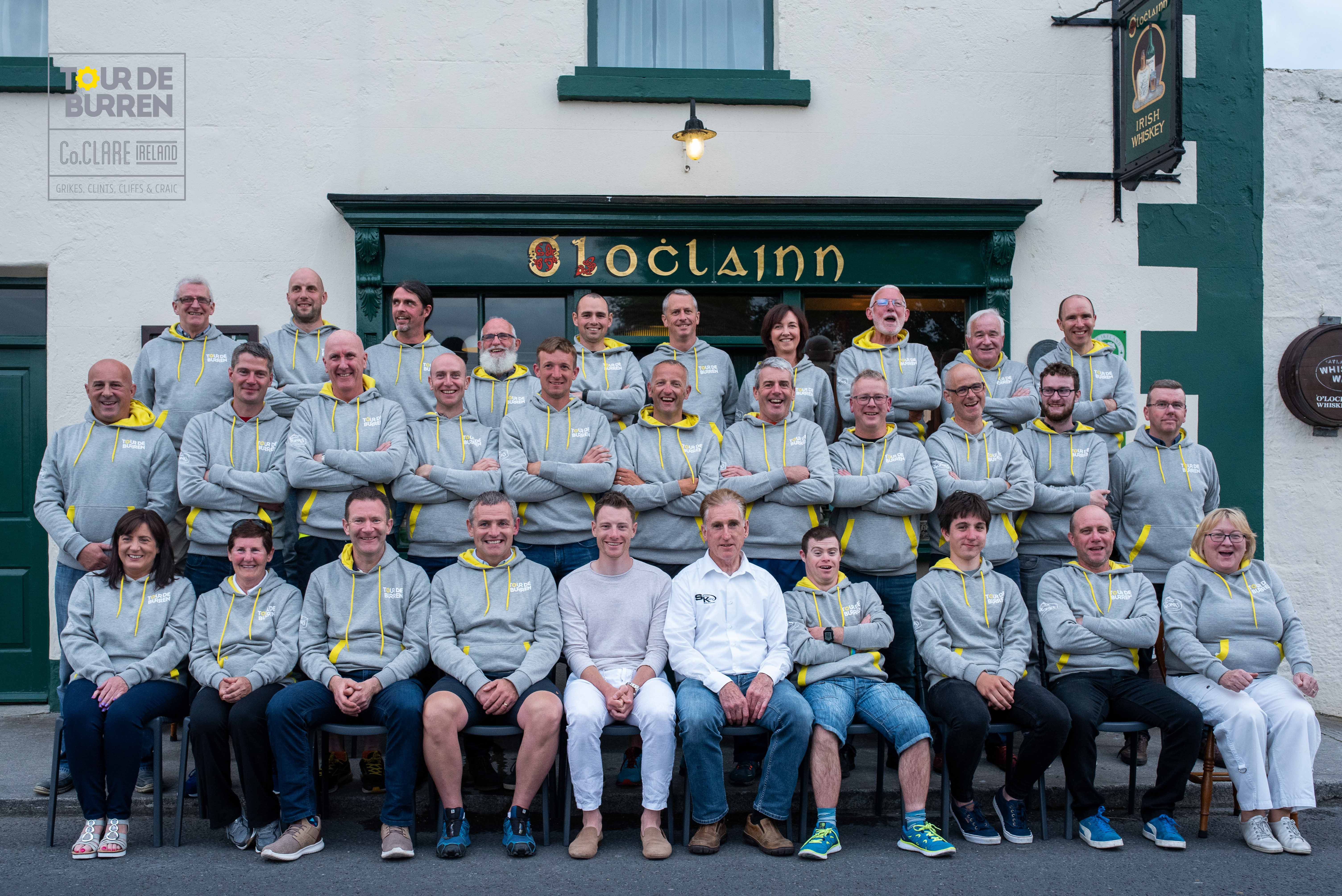 TOUR DE BURREN 2021 CANCELLED
Due to circumstances beyond our control the Burren Cycling Club has reached the decision to cancel the 2021 Tour de Burren. We are unable to run our event while keeping the participants, volunteers and local communities of Ballyvaughan and North Clare safe.
The Tour de Burren will return on Saturday, 18th June 2022 in a format that is safe for everyone involved.
All 2021 entries will be refunded.
Yours in cycling
The Burren Cycling Club
******************************
HISTORY OF TOUR DE BURREN
The next Tour de Burren will take place on Saturday 18th June 2022 organised by the Burren Cycling Club.  In 2019 Cycling Ireland rated the Tour de Burren 9.7/10 as a leisure cycle event.   In 2014, the event was voted, by Cycling Ireland Members of which there are over 23,000, as the best leisure cycling event in Ireland!!
The event started all those years ago when a few enthusiastic members of the Club got together and organised a spin in one of the most beautiful areas of Ireland. The spin, soon became an annual event and interest grew, especially with the lure of brown bread and smoked salmon at the food stop.
In 2009, Sport Ireland secured funding from An Post, to provide support to a five cycle series in Ireland. Clare Local Sports Partnership and the Burren Cycling Club successfully bid to make the Tour de Burren one of the An Post Cycle Series events.
In 2018 the Burren Cycling Club returned to its roots and organised the event on their own.  It had all the same draws and high standards as previous years coupled with a few surprises and treats.
In 2019 Sam Bennett and Sean Kelly cycled the Tour de Burren.  These two Tipperary men were welcomed to the Burren with open arms and won a place in the hearts of the cyclists.
In 2020 the Burren Cycling Club had to cancel the Tour de Burren due to CODID-19. It was a difficult year for mass participation events and cycling in general.
The Tour de Burren is recognised as one of the 'Must Do' cycle sportifs in the country. Indeed, it has been acclaimed in the past as Ireland's Premier Cycle Sportif, that many try to emulate, year on year!